The CONVERGE Document Management module allows you to distribute documents via the Web and ETL devices, all managed from the CONVERGE portal. Documents are added to a familiar folder structure (all defined by you), and each revision of the document is stored for auditing purposes. Permissions can be assigned at the Document or Folder level, meaning it is easy to manage exactly who has access to the documents, and with documents having a Published and Unpublished state you can prepare updated documents in advance and release them across your organisation with a single click.
When you log on to our document management system, you are notified of the latest updates to documents you have access to. Our Read and Sign feature also highlights any documents that are marked as required reading for you. Admins can assign documents to Required Reading groups, and all users in that group will require to read those documents, then confirm they have done so. When uploading a new revision of a document you can indicate if this revision requires users to re-read it if there are significant changes. Reports and reminders for all Required Reading documents are available to ensure you always know the current status.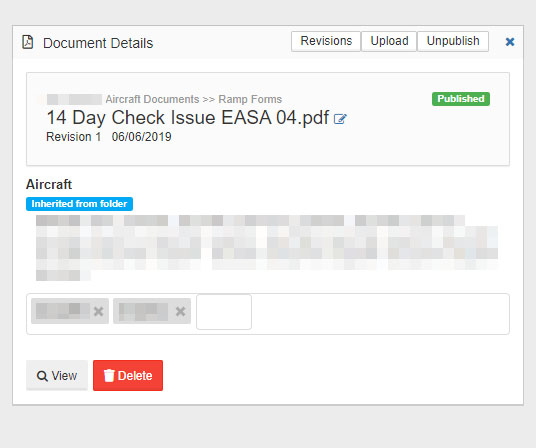 For documents that require to be available to your engineers we provide the Aircraft Document feature. Exact documents and revision can be assigned at an aircraft or fleet level, allowing you to easily control exactly what versions of a document are present on each aircraft. Documents are automatically downloaded to the ETL device assigned to the aircraft and you can access an overview of your entire fleet showing which documents and revisions are on each aircraft. All this AND the same auditing and revisioning features.
Viewing documents on the ETL uses the same folder structure as created on the website, and allows multiple documents to be opened and viewed at the one time, making it easy to check documents relating to any tasks that you may be working on. Since document revisions are managed by the system, and documents updates are automatically downloaded you will be referencing the up-to-date correct revision for aircraft.